Compressed air is notorious for leaking without detection by human senses in places that you cannot see, hear, feel or smell. Ultrasound created by the leaking compressed gases can only be detected by an ultrasonic leak detector. Skills Gauge compliments its "High Impact Energy Saving" training with the mighty Sonaphone ultrasonic leak detector. The Sonaphone has a strong reputation for accurate ultrasound measurement solutions in Predictive Maintenance, Reliability, and Condition Based Monitoring & with a presence across the globe and considered to be the global leader in ultrasound instrument design.
Equip your team with this compact yet powerful device. Choose from the base model or one of our customized software driven model. Skills Gauge is a proud agent for Sonotec in supplying a diverse range of manufacturers and Education Institutions the latest in Ultrasound Technology used for Airborne and Structure Borne detection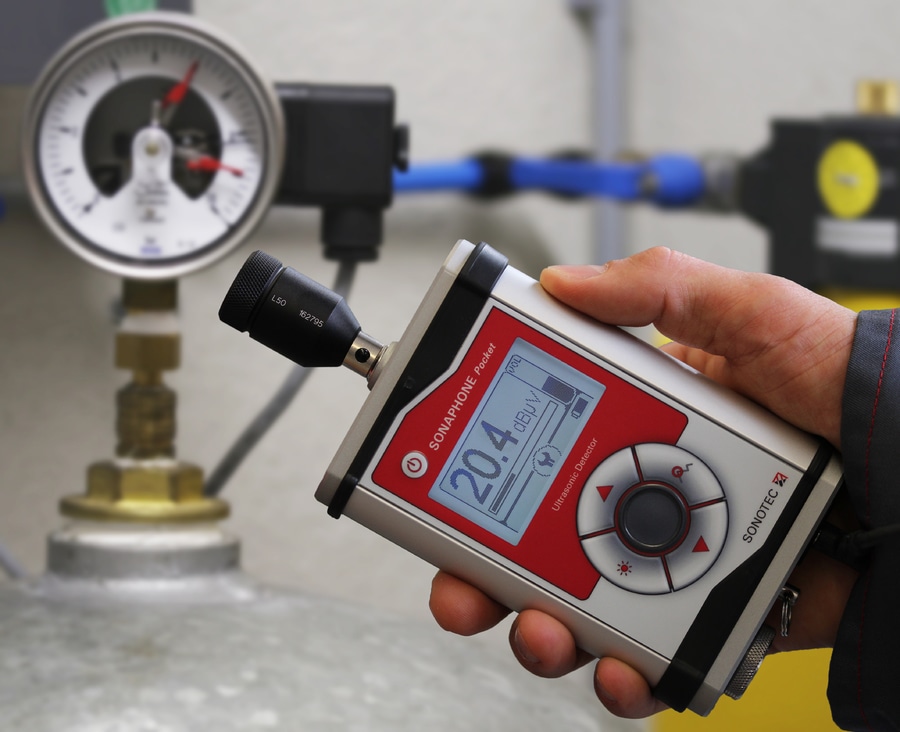 Features:
Find leaks and save energy
Early warning of bearing failure
Compact design
Easy to use
Extensive accessories for a wide range of application.
Numerous preventive maintenance tasks can be handled quickly and efficiently with the SONAPHONE Pocket. Lower your energy costs and increase your operational safety with the most compact testing device of the SONAPHONE series.
The ultrasonic testing device is used for:
Leak detection with compressed air, gas and vacuum systems
Wear control on rotating machines.
Providing evidence of partial electrical discharges where there is insulation damage
Functional testingof steam traps & valves
Tightness testing of unpressurised systems.
With the SONAPHONE Pocket you identify problems even before they arise and create value at all levels of your company. Just by detecting and eliminating leaks you can reduce the energy costs for your compressed air system up to 30 percent. This also has positive effects on your operational safety and system productivity through early warning of bearing failure and evidence of partial electrical discharges.
The compact testing device is designed to fit in any pocket. However, its robust construction means it is also appropriate for harsh industrial environments.
The SONAPHONE Pocket is supplemented by extensive accessories in the form of airborne and structure-borne sound probes. You will receive the appropriate probe for your application from our product range, which you can attach to the device with just one simple movement.
You do not need much time or expensive training in order to perform the test procedure. The testing device makes the ultrasonic signals audible and shows them on a digital display at the same time. The SONAPHONE Pocket – easy to handle and very effective.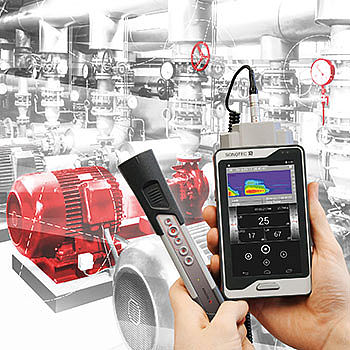 Advantages at a glance:
New applications through new processes
User-friendly interface speeds up your inspection process
Record ultrasonic frequencies from 20 to 100 kHz
Store  test data and spectrograms
Add photographs, voice memos and comments to the measuring point
Create test reports with a few clicks
Minimize downtimes and increase operational safety
Improve energy efficiency
In the age of Industry 4.0 the optimizing processes, increasing operational safety, and improving energy efficiency are becoming more and more significant. Meet the challenges of Maintenance 4.0 with the new SONAPHONE from SONOTEC. The digital ultrasonic testing device combines innovative sensors and software for preventive maintenance that can be operated intuitively and paves the way for new processes for new applications.
With the new SONAPHONE you can:
Detect and classify leaks in compressed air, gas and vacuum systemsand reduce your energy costs.
Monitor the condition of your machines and determine the optimal maintenance time,
Identify leaks in windows, doors, vehicles, componentsand containers and ensure compliance with specified quality requirements.
Find electrical partial discharges and insulation damageand increase your operational safety.
Assess thefunction of steam traps and prevent energy and steam loss and damage to the steam system.
The mobile handheld device is operated with a touchscreen like a tablet and is the ideal companion throughout the entire test procedure – from planning, to measurement, to analysis. Store:
level
spectrogram
level record
photos
voice memos
comments
To the test object. With only a few clicks you receive a test report and can prove management your contribution to energy efficiency and process optimization. Depending on your requirements and applications, we offer you user-friendly software, innovative ultrasonic sensors and versatile accessories for your SONAPHONE.